Contact us
Chair
Associate chair, undergraduate affairs
Undergraduate administrator
Undergraduate commerce administrator
Undergraduate assistant
MS. DEBORAH NAVARRO
Message from the Associate Chair
Welcome to the undergraduate Economics website for prospective and current students. On these pages, you will find information about our programs and courses, as well as other useful resources and links.
Read more...
In The News

Economics Career Panel, March 28, 2019, 12-2PM , Common Room

Join us at the Backpack to Briefcase (b2B) – Economics Career Panel. This is a great opportunity to network with alumni and learn about the various career paths you can take after graduation.
Moderated by the Professor Gillian Hamilton, alumni will speak on their experiences at U of T and discuss how to pursue a successful career. After the panel, join alumni, faculty and peers at an informal reception where FREE FOOD will be served! REGISTER HERE.
Backpack to Briefcase (b2B) Career Panel Discussion – Economics

When: Thursday, March 28th, 12 – 2 P.M.

Where: Max Gluskin House (150 St. George Street), The Common Room (Room 130)

Alumni Panelists:
Florence Narine, Senior VP, AGF Investments Inc.
Howe Gu, WW Director, Global Digital Advisory Services, Microsoft
Roy Hrab, Director of Policy, Ontario Energy Association
Yi Luo, Director, Actuarial Services, Canada Guaranty Mortgage Insurance Company
To learn more about attending alumni, faculty and registration, click
HERE.
The 2017-2018 Economics Scholarship goes to...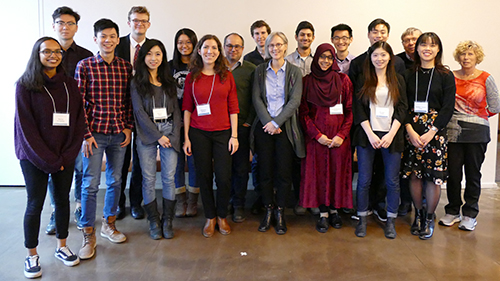 Read More...
The Bank of Canada Governor's Challenge
The Governor's Challenge is a competition for undergraduate university students which, by putting students in the role of advisor to the Bank of Canada's governing council, promotes understanding of the role of monetary policy in Canada's economy. Having analyzed economic developments, the team must form a forecast and make recommendations on whether to adjust the key interest rate. This year has seen more than 100 students from 25 Canadian universities entering the competition.
Our team – the top five students from the new course ECO466 "Empirical Macroenomics and Policy" – has been selected, following a presentation made via video conferencing, to participate in the final. That takes place at the Bank of Canada's headquarters in Ottawa on February 10, 2018. Only five teams are selected for the national final – this is the third year of the challenge and the third time U of T has been in the final. So we are firmly of the mind that this opportunity will be third time lucky!
Our talented students, all in their fourth year:
Tacye Hong – Financial Economics Specialist
Vibhu Kapoor – Economics Specialist and Statistics Minor
Anthony Piruzza – Financial Economics Specialist
Matthew Schwartzman – Economics Specialist and Mathematics Major
Stephen Tino – Financial Economics Specialist
Previously, preparation for the competition was purely an extracurricular activity for our students. The new ECO466 course puts the Governor's Challenge front and centre; in addition to individual tasks, students are divided into groups and work towards a Group Report, and at the conclusion of the course, five students from the top two groups are selected to participate in the challenge. Course instructors (and team coaches!) are Professors Michelle Alexopoulos and Martin Burda, supported by TA Paul Han (who was himself a team member last year). Read more...