Contact us
Chair
Associate chair, undergraduate affairs
Undergraduate administrator
Undergraduate commerce administrator
Undergraduate assistant
MS. DEBORAH NAVARRO
Message from the Associate Chair
Welcome to the undergraduate Economics website for prospective and current students. On these pages, you will find information about our programs and courses, as well as other useful resources and links.
Read more...
In the News

Focus in Data Analytics Major or Specialist
Starting 2020-2021, students will be able to add the Focus in Data Analytics to the Economics Major or Specialist program. The focus ensures that students gain proficiency in applied empirical economics. It provides students with hands-on exposure to the tools empirical economists use to build and analyze datasets - programming languages such as Python, and software programs to manage, statistically analyze, and visualize data such as Excel, GIS, Stata and R. The focus will also direct students to empirical economics courses that apply these tools in a wide variety of contexts. Please see the Focus in Data Analytics (Major) or Focus in Data Analytics (Specialist) typical pathway handout for highlights and refer to the Calendar for details.
Economics Recheck or Reread Request Form
In response to recent operational changes brought about by the COVID-19 pandemic, the department established a temporary course recheck or reread process for Spring 2020 Y and S courses only. If you think there was a mistake in the calculation of your final course grade or if you would like to have your final assessment remarked for an Economics course at St. George during the Spring 2020 term (Y&S courses), please fill out this Economics Recheck or Reread Request Form and send it to ugassistant.economics@utoronto.ca along with a copy of your final assessment. The department will review applications starting May 19, 2020.
Please note: when the university resumes normal operations, students are expected to use the Faculty of Arts & Science Exam Recheck or Reread request form for future requests.
Changes to Economics Courses in Summer 2020
1. Newly added courses:
ECO 314H1F Energy and the Environment
NEW CALENDAR DESCRIPTION :
The Covid-19 pandemic has led to enormous changes and volatility in energy markets. Oil demand is plummeting as are oil prices. Canadian oil is selling for about the price of a latté. This course surveys important features of energy markets and related environmental challenges in a rapidly changing world. One of the central objectives is to provide an understanding of the key economic tools needed to analyse these markets and to develop an appreciation for the political and geopolitical centrality of energy issues. A related objective is the development of a framework for understanding the public discourse on energy and the environment. Topics include the hydrocarbon economy (oil, natural gas and coal), electricity markets, global warming and other externalities, renewable energy and conservation, carbon pricing, sustainability, the geopolitics of energy, and the impacts of the current pandemic on energy markets.
ECO325H1F Advanced Economic Theory - Macro
ECO421H1F Special Topics course: Applied Financial Risk Management
This course is intended to drill down into details of some important and urgent issues concerning contemporary financial industry. The topics may include: Economic Capital and Stress Testing, Business Performance Measurement, Emerging Capital Markets and Risks, Innovative and Exotic Derivatives in capital Markets and Risks; Asset securitization and Risks; Hedge Funds and Risks. Please note the topics chosen for each term are subject to changes. The instructor will use the real world problems for research projects and case studies required by the course. This would encourage the students to take initiatives in researching, formulating and resolving the issues, reasoning through to obtain buy-in from a panel consisting of industrial practitioners. This is a new course and designed to best equip the participants with the most current knowledge and in-depth understanding in the risk management when entering the mainstream financial institutions.
Prerequisites: ECO358H1.
Note: Students in the Financial Economics program are recommended to take this course. The ECO421H1F in Summer 2020 session will count as one of the financial economics courses listed in the calendar under:
"Third Year and Higher (Electives, 5.5 FCE, at least 1.0 at the 400-level):
2. Cancelled Courses: ECO407H1S L0101, ECO381H1F L5101
As you may have heard, the University of Toronto has made the difficult decision that summer courses will not occur in person. As a result, the department had to reassess our summer course offerings and determine what courses can be delivered remotely. We regret to inform you that ECO407H1S L0101 and ECO381H1F L5101 have been canceled for summer 2020. In the meantime, students who wish to take another ECO course are encouraged to enroll or waitlist in other courses. Please check the summer timetable frequently to see if new offerings are listed in the coming days. We sincerely apologize for this change and if you have questions, please feel free to contact us.
3. Useful links:
For the most recent updates, pease visit the following links:
Summer course listing: https://www.economics.utoronto.ca/index.php/index/undergraduate/courses/1
Summer course timetable: https://timetable.iit.artsci.utoronto.ca/summer2020
Updates from the University and the Faculty of Arts & Science on the development of COVID-19 and the effect to the University and students:
Message from the University regarding the Coronavirus (COVID-19)
Faculty of Arts & Science – COVID-19 Student FAQ
The 2018-2019 Economics Scholarship goes to...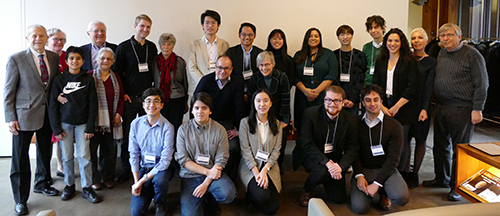 Read More...