Contact us
Chair
Associate Chair, Undergraduate affairs
Undergraduate administrator
Office hours:
Monday to Friday:
9 - 10:30A.M.
1:30 - 2:45 P.M.
Undergraduate coordinator,
Rotman Commerce & Student Life
Office hours:
Monday to Wednesday:
10 to 11:30 A.M.
2 to 3:30 P.M.
Thursday to Friday:
10 to 11:30 A.M.
Undergraduate assistant
MS. DEBORAH NAVARRO
Message from the Associate Chair
Welcome to the undergraduate Economics website for prospective and current students. On these pages, you will find information about our programs and courses, as well as other useful resources and links.
Read more...
In The News
Summer job description: Research Assistant in Economics

The department of economics is looking for a full-time research assistant who will engage in designing and building a database to track the performance of its alumni. The research assistant will also have the opportunity to engage in analysis of the data collected, using statistical software such as STATA.
Qualifications: we are looking for a senior-undergraduate student with strong excel skills. The successful candidate must be organized, independent and self-motivated. Prior experience with database management will be an asset. Prior knowledge of econometrics is an asset, as is experience with data analysis. Preference will be given to candidates with a prior knowledge of STATA.
Timing and hours: 35 hours per week for 12 weeks, beginning early May.
If interested, submit a CV, cover letter and any evidence of data analysis and econometric skills to Professor Hamilton by April 29, 2016: gillian.hamilton@utoronto.ca(email Subject: Summer RA Alumni Job)
Bank of Canada Governor's Challenge
Congratulations to our Bank of Canada Governor's Challenge team: they competed in the finals and did an excellent job representing themselves and the University of Toronto! Teams from across Canada developed a monetary policy recommendation for the Bank of Canada's governing council. Over 100 undergraduates from 22 universities took part in the competition and just five teams made it to the finals. For more information on the results of the challenge, see: this link.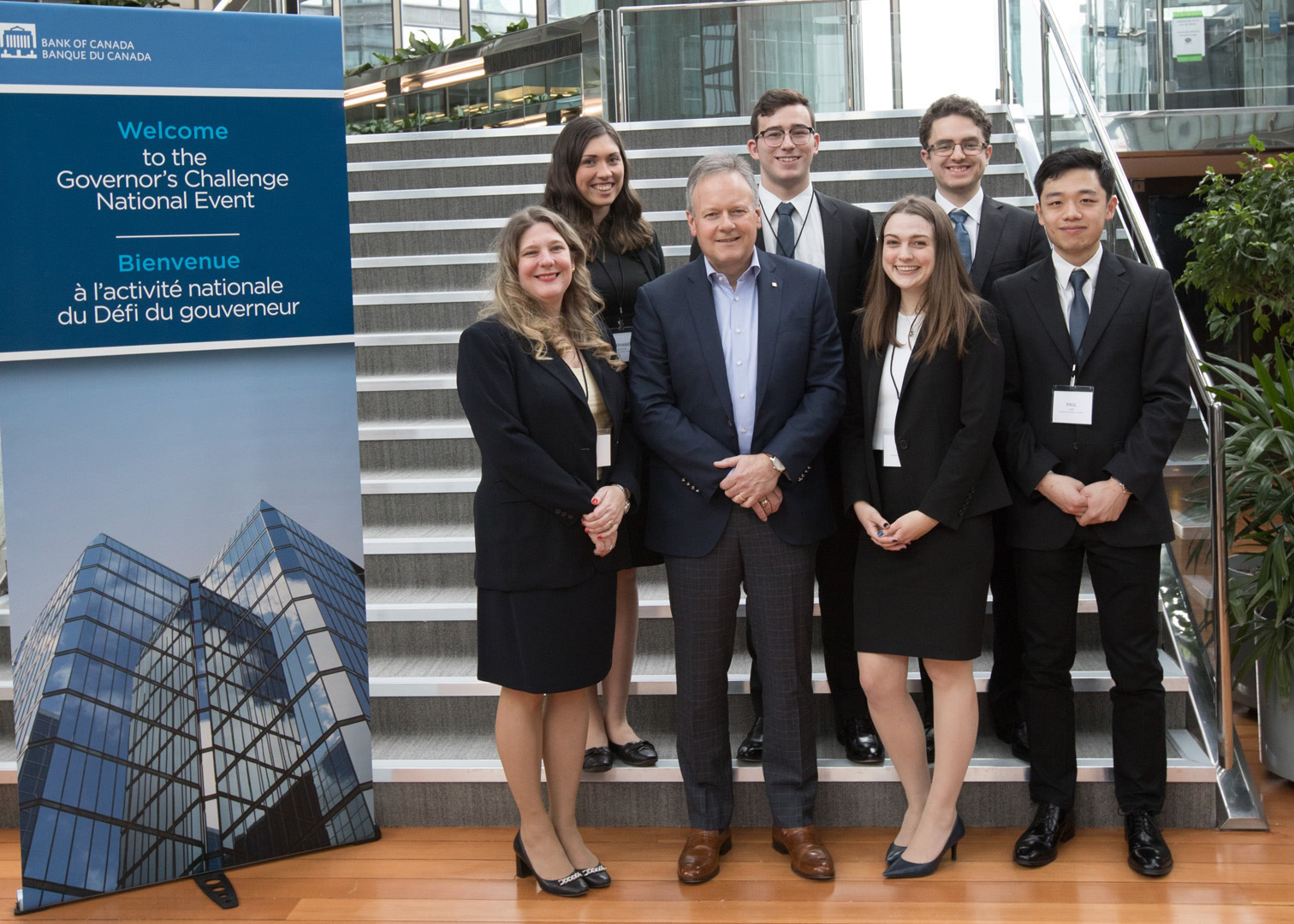 Back row: Professor Michelle Alexopoulos (coach), Governor Stephen Poloz, Trevor Zhou, and Elijah Zi Huang; Front row: Stephanie Kang, Jerry Xiao Lu, Zachary Bunting and Laura Murphy.
The 2014 - 2015 Economics Scholarship goes to...
Awards Reception 2015
... read more...