Contact us
Chair
Associate chair, undergraduate affairs
Undergraduate administrator
Undergraduate commerce administrator
Undergraduate assistant
MS. DEBORAH NAVARRO
Message from the Associate Chair
Welcome to the undergraduate Economics website for prospective and current students. On these pages, you will find information about our programs and courses, as well as other useful resources and links.
Read more...
In the News

"Welcome to the Program" Event for Economics Majors
Meet other second-year students in your program, representatives from the Economics Student Association, and staff and faculty advisors.
Hear from senior undergraduate & graduate students about the different ways in which you can navigate through economics program(s).
We will discuss programs, courses, research opportunities and other ways to get involved. There will be plenty of opportunity for Q&A.
Food will be provided.
Please Click HERE to REGISTER!
When:
Thursday, January 30, 2020, 4-6PM
Where:
Department of Economics, Max Gluskin House, 150 St. George Street, Student Lounge (aka. the Common Room 130)
Economics Mentorship Meal 2020

The Department of Economics would like to invite you to the Backpack to Briefcase (b2B) – Economics Mentorship Meal.
This is a great opportunity to connect with alumni and faculty to chat about your future career options over dinner.
Date: Thursday, February 6th
Time: 6:00 – 8:00 pm
Location: The Faculty Club
41 Willcocks Street.
The 2018-2019 Economics Scholarship goes to...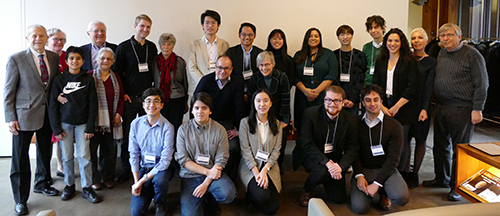 Read More...