News
OUTSTANDING TEACHING AWARD
Professor Robert (Bob) Gazzale wins the Faculty of Arts & Science's top teaching award.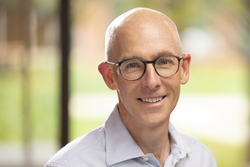 The Faculty of Arts & Science Outstanding Teaching Award recognizes teaching excellence in undergraduate and graduate education with a focus on classroom instruction and course design and/or curriculum development.
Announcing this year's winners, the Faculty of Arts and Science writes that "Over the last 10 years, Gazzale has been a driving force behind the continuous renewal of the course content, structure and delivery of the department's Principles in Economics courses which annually enroll over 5,000 students. His commitment to student learning and enhancing student experience is reflected in his efforts during the pandemic to develop in-person learning opportunities and optimize the transition to online instruction. Perhaps one of the best measures of his dedication is the significant number of first-year students who credit his course with their decisions to change programs and pursue economics.
Congratulations Bob!