News
New Challenges For Big Data In Economics And Finance Conference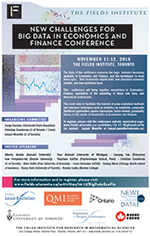 NOVEMBER 11-12, 2016
The Fields Institute For Research In Mathematical Sciences The Fields Institute, Toronto...
Read more
Rotman Research Roundtable on Gender + the Economy
November 16, 2016
Rotman School of Management, Room 1065
95 St. George Street | Toronto, ON
Keynote address
Using Occupational Stereotypes to Predict Race and Gender Segregation in the Workforce Barriers to Reporting: Sexual Harassment and Assault in Academia...
Read more
Welcome
The Department of Economics at the University of Toronto
ranks
among the top economics departments internationally. The teaching and research of its 75 faculty members span a wide range of fields and cover theory, applied data analysis, and econometric methodology. Around 15 PhD students, 60 MA students, and 20 MFE students enter our programs each year, and the department has over 1,800 undergraduates, with an additional 800 undergraduates at the Mississauga campus. Collaborative programs with the
Rotman School of Management
and the
Faculty of Law
allow students to undertake interdisciplinary studies at the graduate and undergraduate levels.
Kunal Dasgupta and Jordi Mondria, Inattentive Importers, Working Paper 566, 2016-10-17
Martin J. Osborne, Jeffrey S. Rosenthal, Colin Stewart, Information aggregation with costly reporting, Working Paper 565, 2016-10-05
Donald N. Dewees, Are Automated Vehicles Coming at the Right Speed?, Working Paper 564, 2016-08-05