News
TRACKING THE COVID-19 TRACKER
June 22, 2020
The New York Times features the first paper based on the Economic Tracker, co-authored by Michael Stepner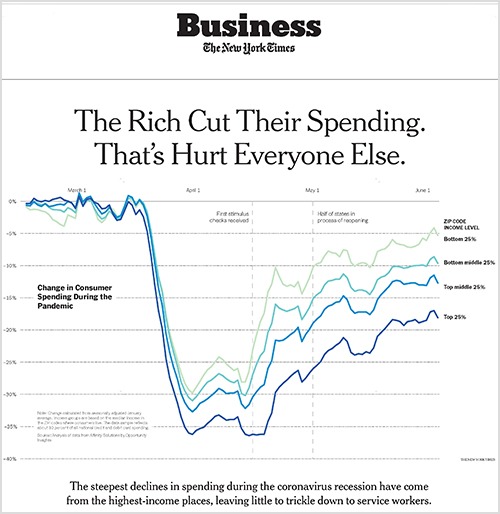 Incoming faculty member Michael Stepner is a member of the team that has published "How Did COVID-19 and Stabilization Policies Affect Spending and Employment? A New Real-Time Economic Tracker Based on Private Sector Data". The paper examines how the pandemic affected employment, spending and businesses in the United States and evaluates the application of policies such as stimulus payments and the Paycheck Protection Program, a loan designed to provide a direct incentive for small businesses to keep their workers on the payroll.
In its coverage of the paper, The New York Times writes that "economists at the Harvard-based research group Opportunity Insights estimate that the highest-earning quarter of Americans has been responsible for about half the decline in consumption during this recession. And that has wreaked havoc on the lower-wage service workers on the other end of many of their transactions, researchers say." Stepner is featured prominently in the article, and comments that "one of the things this crisis has made salient is how interdependent our health was. We're seeing the mirror of that on the economic side."
In July, Stepner will be delivering seminars to economists in the Canadian federal government. "In the near future," he says, "I hope to turn my attention to measuring Canadian economic activity in real time as well."
Keep an eye on our news section for future developments in this important and timely project.
→ "First Real-Time Economic Tracker is Launched"
→ Michael Stepner's website