News
THE ACADEMY IN THE COMMUNITY
October 26, 2018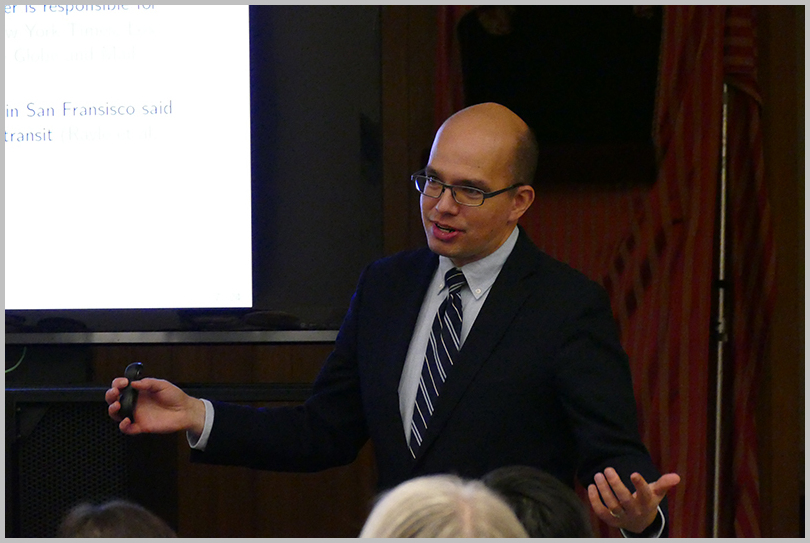 The evening of October 23 saw Professor Jonathan Hall deliver a talk, "Is Uber Helping or Hurting Public Transportation?", at the S. Walter Stewart public library in East York, based on his recently co-authored study published in the
Journal of Urban Economics
. A member of the Department of Economics faculty, Hall is also affiliated with the
University of Toronto Transportation Research Institute
and the
Munk School of Global Affairs & Public Policy
.
It was a well-attended event, with an active and engaged audience who had plenty of questions on the rise and rise of ride-hailing services like Uber and Lyft.
Hall outlined his research, giving an overview of the evolution of these kinds of services and discussing the examination and analysis of the effect on public transit. In large cities, Uber actually tends to increase ridership: its use can compensate for shortcomings in a transit system's coverage and scheduling. Hall's data set is taken from the United States, but he thinks Uber's effect in Toronto is unlikely to be comparable, since the TTC network provides more comprehensive coverage. Nevertheless, the finding that Uber tends to reduce transit ridership in small metropolitan areas has implications for cities like Hamilton.
After concluding his talk Hall was kept busy with several follow-up discussions, demonstrating a high level of interest from attendees in the effect of developments in transportation options for Torontonians.
S. Walter Stewart librarian Tara Stadius organized the event as part of the Toronto Public Library's
Civil Society
series. She remarked that members of the public are keen to learn about the work being carried out at the university that lies in the heart of their city, noting that the library system provides an ideal way to bring the academy into the community, simultaneously demystifying and informing on a wide variety of topics.
→ See also U of T News article "Are Uber and public transit friends or foes? It depends on size of city, U of T study finds"