News
PROFESSOR DWAYNE BENJAMIN APPOINTED VICE-DEAN, GRADUATE EDUCATION
September 26, 2017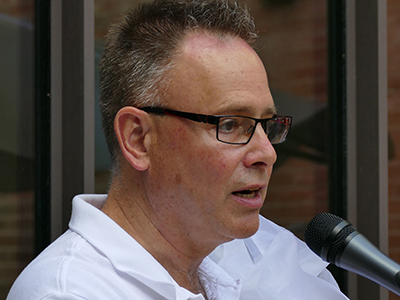 Professor Dwayne Benjamin
It was with mixed emotions that we recently marked the departure of Professor Dwayne Benjamin from his role as chair of the department, a position he had held since July 2015. On September 1, 2017 he became Vice-Dean, Graduate Education in the Faculty of Arts & Science, an appointment that will run until June 20, 2022.
While we are delighted to congratulate him on his appointment, we are also sorry to lose his administrative skills and his steady hand at the helm. Benjamin's predecessor, Professor Arthur Hosios – who served two terms as chair 2005-15 and had also served as associate graduate chair – was on hand to offer his remarks, noting that "as soon as Dwayne was chosen to be chair I knew it was only a matter of time before he'd be asked to take up another position at the University."
Hosios added that "there's no question that his departure is a substantial loss for the department and I want to thank him for his many contributions, not only as chair but also his stints as associate chair for the undergraduate program and associate chair for the graduate program." Presenting Benjamin with an unmistakably bottle-holding gift bag, Hosios wished him well, noting that its contents would serve as a handy distraction in the future while dealing with the inevitable challenges and frustrations of his new role.
Benjamin expressed appreciation for the gift, adding that "I want to thank everybody for their support over the last two years of my being chair" and pointing out – with particular reference to Hosios – that "the legacy of the last many years' management of the department is well recognized" within the wider University administration.
We are grateful that Professor Martin Osborne has agreed to serve as interim chair from September 1 to December 31, 2017. An advisory committee is being established by the Faculty of Arts & Science to oversee the search for a new chair.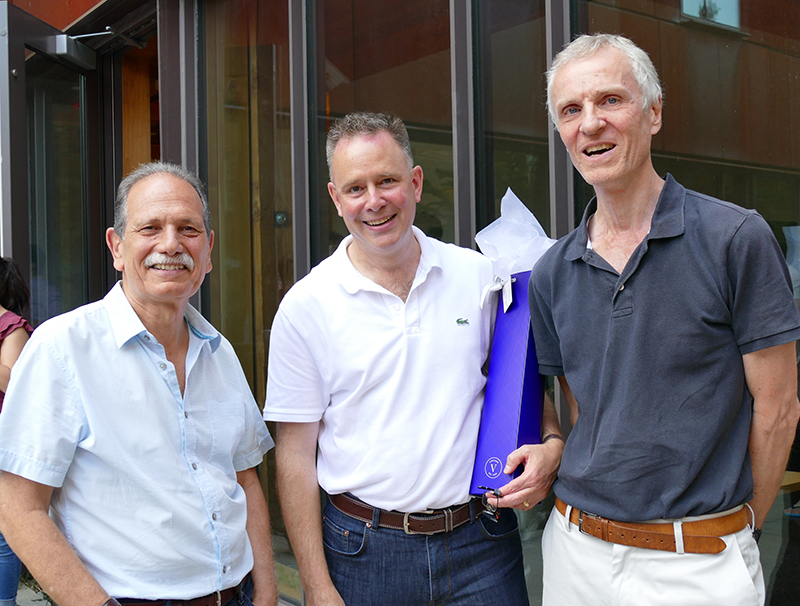 L-R: Professors Arthur Hosios, Dwayne Benjamin and Martin Osborne