News
2017 TEACHING AWARDS
September 27, 2017
We are pleased to announce the winners of the department's Faculty and Teaching Assistant Awards for 2017 – many congratulations to all recipients on their achievement.
Faculty Award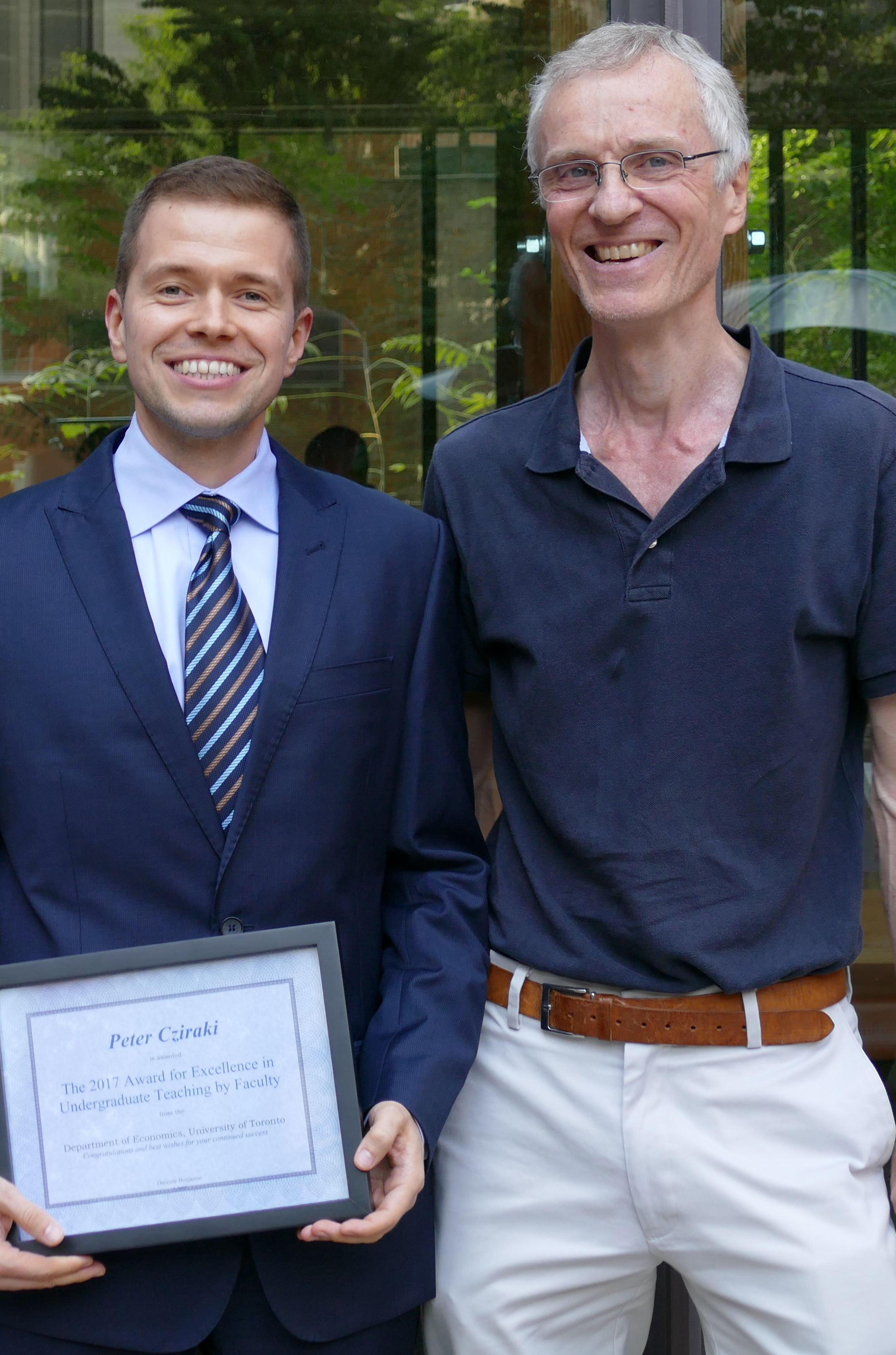 The
Award for Excellence in Teaching
recognizes outstanding contributions in teaching by Economics faculty, with nominations coming from students themselves. The award is made in alternate years for graduate and undergraduate teaching, with this year's award for undergraduate teaching going to assistant professor
Peter Cziraki
.
The criteria upon which selection of the winner is based are that the individual:


Stimulates and challenges students' intellectual capacity and scholarly development.


Demonstrates success in developing students' mastery of the subject and of the latest developments in the field.


Provides opportunities to involve students in the research process.


Creates supervisory conditions conducive to a student's research, intellectual growth and academic progress.


One nominator cited Cziraki's "infectious passion for the subject and his dedication to creating an intellectually stimulating classroom", while another noted that "his dedication to the success of his students was awe-inspiring."
Teaching Assistant Award
We were in the fortunate position of naming Stephen Ayerst and Farhan Yahya as recipients of the
Award for Excellence in Teaching by Teaching Assistants
, which recognizes outstanding contributions from Economics TAs. Nominations can be made by students, faculty and sessional instructors, and are evaluated by the awards selection committee. The criteria:


Demonstrates an excellent command of the subject and effectively communicates course material to students.


Stimulates and challenges students' intellectual capacity; ability to positively influence the development of critical and analytical thinking in students.


Demonstrates the ability to engage with students' learning progress and to stimulate enthusiasm and interest; motivates students to participate and succeed.


Superior ability to positively interact with Instructor(s) and cooperate with other TAs.


Outstanding accessibility to students; in preparation, reliability and punctuality in tutorial and office hours. Fairness, accuracy and attention to detail in grading.


Stephen Ayerst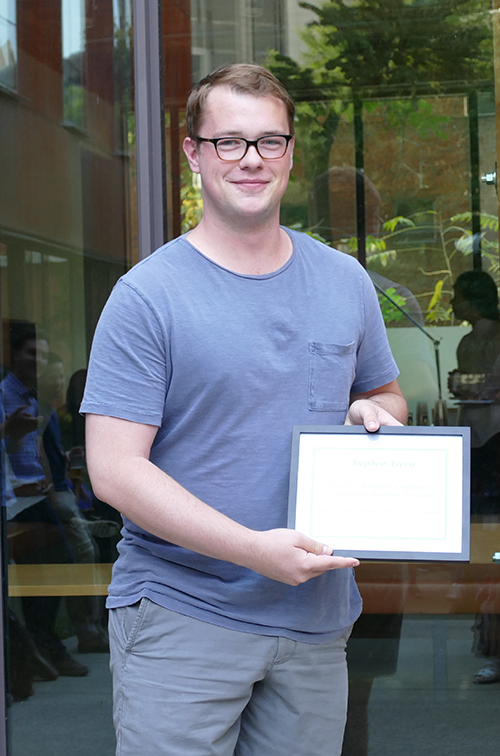 Stephen Ayerst
is a 4th-year PhD student (supervisor:
Diego Restuccia
), whose research focuses on macroeconomics, growth and development.
Among the remarks supporting his nomination was the observation that "Stephen is very invested in his own research and this enthusiam for the field has allowed him to support students in their own research. He has a deep understanding and familiarity with the related liteature, which has allowed him to provide students with a unique perspective when it comes to guiding their research ... Excellent research projects have [resulted] and this success is in no small part due to Stephen's involvement, way beyond the call of duty."
It was also noted that his "commitment to his students is notable, especailly in his punctuality and openness to meet with them when they need support ... He has made himself available to students through various channels, provides timely responses, and is accommodating to differing schedules. His commitment to students is best demonstrated by the extra meetings Stephen was willing to conduct – such as meeting students one-on-one to discuss their research project and leading exam prep sessions."
Farhan Yahya
Farhan Yahya
is in the second year of his PhD studies, and his research fields are economic development and industrial organization.
Yahya's nomination emphasized his strong command of the relevant material and his willingess to go to great lengths in explaining concepts to students.
His communication and coordination skills with other TAs has been exemplary, and his work "accurate, reliable and punctual ... [he] clearly deserves the award ... he did a great job." Another succinct remark, "He was excellent/outstanding in all dimensions", makes it clear that Yahya has made a valuable contribution as a TA.